Solar garden lighting

Please note, these are a good quality product! there are many cheap ones about at markets etc.

A set of three garden solar lights with super bright white LED lighting. The supplied rechargeable battery is a standard AA size. There is a daylight detector that turns the LED on when it gets dark and off in the morning. Run for approx 6 hours when fully charged. The lamps are made of plastic. approx 1' high, 5" diameter.
build_table('tensr',array('sd113')); ?>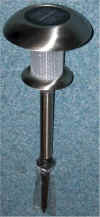 High quality stainless steel solar garden lights. These solar lights have 2 bright white LED's, 2 batteries and a much larger solar surface area (double the size) They also feature an on/off switch 17cm diameter, 30cm tall. Finished in good quality stainless steel they are quite attractive
build_table('tensr',array('sd403')); ?>
To complement the garden lights we have some solar post lights, these are designed to be bolted down to a patio, wall or post. Supplied with 3 coach bolts for secure fitting. Very large solar panel ensures excellent performance combined with good looks. 50cm high, 22cm diameter. Again with on/off switch and daylight sensor. We also stock a taller version, 85cm high.
build_table('tensr',array('sd2052w','sd211w')); ?>

Also some wall mounted lights, same design as the solar post lights, 22cm diameter, protrude from the wall 40cm and are 30cm high.
build_table('tensr',array('sd2062w')); ?>