12V SOLAR PANELS AND REGULATORS FOR LEISURE
| | | |
| --- | --- | --- |
| The combination of multi-crystal cells and a high-reliability module structure make this series of solar panels the ideal solar module. For large-scale power generation hundreds or even thousands of modules can be connected in series to meet the desired electric power requirements. They have a high output, and highly efficient, extremely reliable and designed for ease of maintenance. Separate positive negative junction boxes and dual by-pass diodes are a few examples of some of its outstanding features. Supplied with an 8 metre cable. | | |
Perfect for caravans, boats, etc.
Module Specifications(Sealed with toughened glass):
Model

Maximum Power
Pm(W)

Maximum Operating Current Ipm (A)

Maximum Operating Voltage Vpm (V)

Short
Circuit
Current
Isc(A)

Open
Circuit

Voc(V)

Wt

Frame
L x W x D
(mm)

Price
SP9WC
9
0.55
17
0.57
21.6
1.5kg
346x286x25
£69
SP15WC
15
0.83
17
0.88
21.6
2.2kg
436x286x25
416x306x25
£99
SP22WC
22
1.25
17
1.5
20.2
2.8kg
616x286x25
426x416x25
£149
SP60WC
60
3.31
17
4.0
20.7
6.2kg
976x446x38
£299
build_table('tensr',array('sp9wc','sp15wc','sp22wc','sp60wc')); ?>
Solar regulators 12v, up to 135 watts peak
We offer two solar regulators to use with the above panels, both offer overcharging and inverse current protection.
| | |
| --- | --- |
| Solar regulator 12v, up to 60 watts peak for lead acid batteries | Solar regulator 12v, up to 135 watts peak for lead acid or gel type batteries |
build_table('tensr',array('solreg60','solreg135')); ?>
Solar garden lighting

Stainless A grade

Plastic economy grade
A set of three garden solar lights with super bright white LED lighting. The supplied rechargeable battery is a standard AA size. There is a daylight detector that turns the LED on when it gets dark and off in the morning. Run for approx 6 hours when fully charged. The lamps are made of plastic. approx 1' high, 5" diameter.
build_table('tensr',array('sd113')); ?>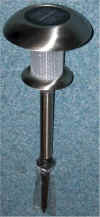 High quality stainless steel solar garden lights. These solar lights have 2 bright white LED's, 2 batteries and a much larger solar surface area (double the size) They also feature an on/off switch 17cm diameter, 30cm tall. Finished in good quality stainless steel they are quite attractive
build_table('tensr',array('sd403')); ?>
To complement the garden lights we have some solar post lights, these are designed to be bolted down to a patio, wall or post. Supplied with 3 coach bolts for secure fitting. Very large solar panel ensures excellent performance combined with good looks. 50cm high, 22cm diameter. Again with on/off switch and daylight sensor. We also stock a taller version, 85cm high.
build_table('tensr',array('sd2052w','sd211w')); ?>

Also some wall mounted lights, same design as the solar post lights, 22cm diameter, protrude from the wall 40cm and are 30cm high.
build_table('tensr',array('sd2062w')); ?>