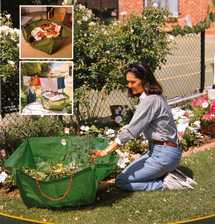 This useful Bulk flag has a huge capacity but folds flat for easy storage! It can be used around the home in the
garden or car. It stands open for easy loading, is washable and strong, yet lightweight and tear97resistant. With
carrying handle; ideal for leaves, grass cuttings, garden rubbish or even for carrying your laundry. Mode from
strong woven polyethylene fabric, the Bulk Bag measures
70 x 70x 43cm.