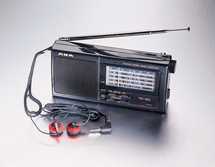 This amazing multiband radio will receive an incredible 1 5-shortwave band broadcasts from around the world, plus AM and FM transmission. Hear cricket in the West Indies, tennis
in the USA, and tune to just about anywhere in the globe. Comes with, LED, tuning stereo indicator, and carry strap. Measures 692 x 492 x 192, runs on 2 AA
batteries (not supplied) (headphones not included). N.B. Reception is of course dependent on proximity to a transmitter and to geographical location.